Print version
Economic Aspects of Sustainability at BellandVision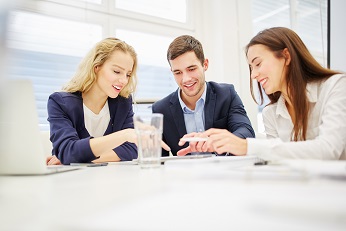 Longterm Partnership and Sustainable Business
BellandVision is a recycling expert committed to compliance and the legal obligations arising from the German Packaging Act. Our customers rely in particular on the many years of experience and extraordinary commitment of our BellandVision team. Our motto is not to just deliver services but to offer a first-class customer service on the top: with an individual consultation, an easy accounting system and a solution-oriented IT support, BellandVision adds real value to its customers' organisations.
The fact that our services are appreciated by a number of companies is reflected in our strong and expanding market position. What a great success story and good starting point to convince more companies of BellandVision's high-quality performance and to retain existing customers in the long-term!
Innovation as Driving Force for the Future
Things are changing fast today. This fast-paced change driven by the globalisation of the market, a changing society and a new legal framework has a direct impact on BellandVision's business. Our answer to this change is openness and flexibility - but a clear position in mind.
To be able to serve customer demands in the best possible way, determination is required to question oneself and to optimise one's own performance. BellandVision's innovative strength plays an important role in this context. In the continuous development of new business models or opening up new markets, the additional benefits for customers and sustainable business management are paramount.
Cooperation for Closed Recycling Cycles
As member of a multinational organisation, BellandVision has a broad knowledge and is an experienced cooperation partner for developing new concepts in the extended field of producer responsibility: the latter must be strictly guaranteed and expanded in the sense of a sustainable resource management. If the responsibility for raw materials as recyclable materials remains with the producer, there will be incentives for a sustainable product creation throughout the whole product life cycle.
Such considerations will firstly lead to a better and thought-out product development which makes an efficient recycling of used products and packaging easier. The second step will be the exchange of know-how and the joint elaboration of concepts resulting in prevention of waste, smart recovery solutions and optimised recirculation of the recycled secondary material into the process cycle and this in an appropriate quantity and quality.
Open Markets and Promote Development
Waste management is based more and more on European legislation which also intends to improve and harmonise the actions taken by the single member states in terms of climate protection.
High-quality and extensive recycling requires a consistent segregation and collection system as well as an efficient reprocessing of waste. Many EU states still need to create the necessary infrastructure to meet this requirement. BellandVision wants to promote this development, calling for a Europe-wide implementation of EU directives and the opening-up of the European markets for packaging waste disposal and recycling.

Print version