Print version
BellandVision - About us
Sustainable Packaging Licensing and High-Quality Recycling
An innovative idea triggered the success story of BellandVision: to offer initial distributors a sustainable, ecological and economically viable collection and recycling system for used sales packaging.
BellandVision GmbH, situated in Pegnitz, is the largest Dual System in Germany. The company is a subsidiary of SUEZ Deutschland GmbH belonging to the SUEZ-Group. The publicly traded French affiliate group has its presence in the water and waste industry worldwide.
The modern service provider BellandVision has been focussing on packaging licensing and disposal for industry and trade since 1999.
BellandVision services take into account economical and ecological interests in equal measure and ensure high-quality, legally compliant and economical implementation of all licensing solutions on offer for initial distributors who have to fulfil obligations from industry and trade.
BellandVision offers the following Services:
BELLANDDual
BELLANDBranche
BELLANDTransport
The annual mass flow balances tested and examined by experts highlight the success of the operative implementation and have always been recognised by authorities with (over-) fulfilment of collection and recovery quotas.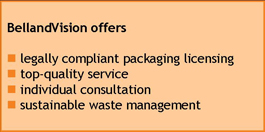 Your benefits
Second Largest Dual System in Germany
The range of services offered by BellandVision is currently used by around 4,500 satisfied contract customers from industry and trade.
The expansion of our market position over the past few years has been a great success and creates a good basis for convincing other companies of the benefits of BellandVision and keeping existing customers for the long-term.

Print version